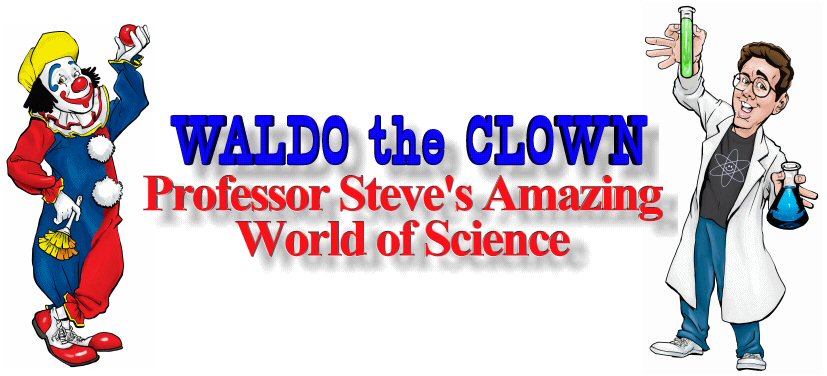 ---


Quotes About Waldo From Others
(click on the

blue links

to see complete letter)
---
Libraries
Pendleton Community Public Library
Pendleton, Indiana
"The Pendleton Community Public Library hosted Waldo the Clown for a children's program, & the kids loved it! The program is great for kids in the elementary grades, but it is also fun for adults as well. Waldo does tricks that are entertaining, but he also combines an educational aspect to everything he does. Booking this event was easy, & Waldo/Professor Steve is a pleasure to work with. We've had him at the library for just about every program that he offers, & he never disappoints! He packs the house every time!"
Pendleton Community Public Library . . . Pendleton, IN
Schools
Perry Worth Elementary School
Lebanon, Indiana
"Thank you so very much for your wonderful visit to our school. The children enjoyed the show so much & got so much out of it. I truly don't remember a convocation where the kids were so excited & involved. Your special visit with our class was like icing on the cake. Thank you so much for brightening our week!"
---
Danville North Elementary School
Danville, Indiana
"Steve's program incorporates a great deal of audience participation & he is skilled at maintaining the children's attention throughout the program. This is a program our students enjoyed thoroughly."
Churches
Grabill Missionary Church

Grabill, Indiana
"I just wanted to take a minute & let you know how much we loved your program! I have used Professor Steve several times in the past & loved every time you were with us. I have hesitated about Waldo because some children are afraid of clowns. I watched your promo videos & because I know what a great job & how kid friendly you were as Professor Steve, I decided to give it a try! You were unbelievably great & the kids loved Waldo! Not only were the kids laughing & having a great time, but your message was clear, easy for kids to remember & God centered!
I had one second grade boy who told me before the program began that he was very afraid of clowns. He was a bit teary & wanted to sit in the far back. After about 5 minutes I looked to see how he was doing & he had moved clear up front, very close to Waldo & was having a wonderful time! I would recommend both your Waldo the Clown & Professor Steve programs to anyone! Thanks again for being a part of our special evening & thanks for sharing Jesus with children in such a fun, unique & kid friendly way."
---
"I don't know, if while you are performing, whether you get a chance to look at the kid's eyes. Thursday night they were as big as silver dollars. You made an impact on those in attendance that will last a long time."
"Aside from the professionalism of Waldo, and beyond his humor is the way he presented the gospel. This had to be one of the most effective ways I've seen for captivating an audience and sharing Christ. Any age would benefit from a night with Waldo!"
---
"Your ministry has truly been a blessing to our church for the past 3 years. We hope we can have you back for at least 3 more. You were "fantastico"! The kids paid attention, retained your message and they've been asking, "When is Waldo coming back?" It is evident that God has given you special talents and abilities to reach the young kids with the gospel message."
"One parent said, "My kids couldn't wait to get to church tonight to see Waldo.""
---
"His presentation was done very professionally and carried a strong Biblical message. The clown format seems to be a very effective tool for teaching Biblical truths, especially for little ones."
"If you are looking for a special event for youth or adults that will be entertaining while pointing your audience to God and His Word, "Waldo the Clown" is for You!"
---
"Waldo is a clown who has a passion for Jesus Christ, and this passion comes through with every program he has. Each time Waldo has been in Moweaqua the ministry value of his program has been incredible. Without a doubt, your church or organization will be blessed and pleased if you share Waldo's passion for the Lord."
---
"Steve Walden, a.k.a. Waldo the Clown, can deliver. He's a great entertainer, story-teller, magician, balloon animal maker, jokester, preacher, and clown. And he can do it all in budget that will fit your needs."
"I was amazed as he kept young children, teenagers, and even adults listening intently as he related Biblical truths through the tricks of trade used by a clown. He made our youth kick-off into a night to remember."
---
"I am most impressed with the way that Steve relates a Christian, positive message to each act that he performs. He not only brings it down to their level (we have had preschool and elementary children involved) he makes it very interesting and they love him. We have had groups anywhere from 60 to 200 and they are totally engrossed in "Waldo" every time."
---
"During the past ten years my three youth ministries have had a few things in common: basically: Teaching, Preaching and Reaching. Waldo the Clown is able to minister within all three of these areas in his Gospel-oriented programs. That is why I have had him four different times over the past eight years and hope to have him participate again and again and again!!!"
"The one thing you can be sure of when Waldo is performing is that God's Word will be presented and the kids will enjoy the lesson. His mixture of "clowning skills" and magic tricks help the crowd see the message."
---
"Through humor, balloons, juggling and illusions he drove home the importance of reading and doing God's Word in a way to which the adults, the very young children and the older, 'wiser,' more skeptical boys could relate."
"He did a great job of interacting with the kids, getting them to participate with excitement."
---
"As Waldo the Clown, an easy rapport was established and maintained with the audience that made the program entertaining and delightful. Waldo also provides a point of contact for the children that makes the message he shares more memorable."
"As a clown he can open doors and touch lives and provide an outreach to people who might not otherwise be receptive to the church."
---
"His humor, wit, and actions hit home with great applications. All of us were challenged to make a change in our life because of God's work through Waldo."
"Steve led a seminar for our adults on how to be creative in teaching God's Word. His ideas were so practical and so easy that even the least creative person could be creative with the steps Steve showed. My teachers are now excited about teaching God's Word."
---
"Waldo presents a message about Jesus that is both fun and heart warming. With his crazy assortment of props Waldo makes the audience laugh and have fun while they are learning some very valuable lessons."
"Waldo appeals to all age groups as well. Our assembly included children, teens and adults of all ages. Everyone was equally entertained and encouraged by Waldo's presentation."
---
"Waldo the Clown is a very talented teacher. He was able to hold the attention of over 50 youth whose grades were from preschool to high school. Waldo was even able to reach through his message many adults."
"Waldo the Clown has a very unique way of teaching. He entertains while he teaches. This is something that is necessary in order to reach youth."
---


Quotes About Professor Steve From Others
(click on the

blue links

to see complete letter)
---
Libraries
Vigo County Public Library


Terre Haute, Indiana
"We were so happy to have your first visit to our library be the kick-off program for our Summer Reading Programs. From the moment you fired up the leaf blower, you had our audience of all ages captivated.
The program was perfect for our older children who were able to grasp the scientific terms & concepts & then see them first hand from your experiments. Our young children who didn't know the science concepts were still entertained by your "magical" demonstrations.
Thank you for promoting reading & checking out library materials to learn more about the fascinating world of science. Our "Be Creative @ Your Library" theme was an excellent fit for your "Professor Steve's Unseen Forces Show".
I enjoyed working with you & look forward to arranging future visits with you. I would recommend your program to anyone looking for educational & entertaining programs for children of all ages."
---
Lebanon Public Library
Lebanon, Indiana
"Steve has a wonderful ability to relate to children of all ages. Using audience participation Professor Steve kept the kids fascinated from beginning to end. Our parents were very enthusiastic about the learning aspect as well as keeping the group focused. I highly recommend Professor Steve for his ability to relate well to children of all ages & his encouragement of the learning of science as a fun activity. His program is very useful as a program for schools as well as libraries"
Schools
"I'm not quite sure how he did it, but somehow Professor Steve managed to entertain about 300 kindergarten through fifth grade students for three 45 minute presentations that were educational. I'd even go so far as to say that enthralled might be a better word than entertained. Steve had their complete attention & made learning science fun. He understands what kids like, how they think & how they learn. He amuses them, catches their interest & teaches them lessons before they even realize it. The best part is that students come away from the program not only with more scientific knowledge, but also with the desire to continue to learn even more.
Several teachers mentioned that their students actually clapped when told to get out their science books after Professor Steve's visit to our school. I believe that we will be reaping the benefits of Steve's visit for a long time to come. I highly recommend Steve's programs to any school looking for a way to boost student interest in & love of science."
---
Saint Gabriel School
Indianapolis, Indiana
"We want to thank you for your presentation of Professor Steve's Reasons to Say No Show. Your illustrations were wonderful. The children talked about the show the rest of the day & parents heard about the facts you told them that night. Instead of 'What did you learn today at school? with the answer...nothing,' the parents heard about science & their bodies. How different food, drugs, alcohol & smoking hurt their bodies. One child went home & told her mom 'My body is a temple of God & I have to take care of it.'
Incorporating God's Word into your presentation was so wonderful. It made the children see God in their lives. Your presentation Blessed our school. The children laughed & learned important facts. The visual experiments made a lasting impression on them. Thanks again for sharing science & how it works in life with us"
---
South Newton Elementary School
Kentland, Indiana
"I wanted to thank you for such a great presentation last Thursday. The students & teachers of South Newton Elementary were thrilled & entertained by your Professor Steve's Amazing Air Show. It is nice to have such a program that can come to our school & teach & entertain at the same time. You have excited many of our students about science, which is wonderful since our Science Fair is just a few weeks away.
A fourth grade teacher commented on your program. She said that you really knew how to work the audience; you could get the students all fired up & bring them back down again. She also made reference to your ability to present, that your repetition of ideas to be learned was great. Also, having the students participate with answering questions & being involved in the show make it all the better & memorable for them. Several students have told me what a good time they had at your program. I have even been able to reference back to your program while teaching in class.
I appreciate the time & energy that you have put into your programs. We enjoyed you just as much this time as the last time you came to visit us. I look forward to more programs in the future."
---
Hanley International Academy
Hamtramck, Michigan
"Professor Steve, Thanks for your wonderful presentation! Both of our schools were "Blown away." The first thing that our kids told their parents when they came to pick them up was, "You should've seen what we saw today" & then they told them of your program. When this happens you know that you've hit a homerun. Thanks for making a great impression on the minds of our students."
Churches
Traders Point Christian Church
Whitestown, Indiana
"We have had Professor Steve as a part of our Summer Funday program for the last three years. Each & every year his presentations leave us amazed, excited & with a deeper, more profound love & appreciation of our Heavenly Father.
Professor Steve is not only professional in his presentation, exciting & engaging for the kids, but he is (& I love this about him most) unapologetically Christian. He stands up for the Word of God! As he says each year "I believe science proves the existence of a Creator & shows the Bible to be true." Whether he is shooting a soda fountain 20 feet in the air, making a fireball appear out of nowhere or filling the room with lights & lasers, his goal is the same - to bring appreciation, understanding & glory to our Heavenly Father.
Professor Steve also understands the budget constraints of the local body of believers. He works within your budget to make your event, VBS, Sunday program or evangelistic outreach truly memorable & fun! I have kids every year ask, "When is Professor Steve coming back?" I am proud to have him back time & time again."
---
Plum Creek Christian Church
Rushville, Indiana
"Wow! I just had both Waldo & Professor Steve programs at Mahoning Valley Christian Service Camp & they (he) was fantastic! The kids loved all the cool stuff you see in a Waldo program, plus all the great science stuff you see from Professor Steve. Five stars!"
---
WALDOtheCLOWN
Professor Steve's Amazing World of Science
1405 Brooke Dr.; Lebanon, Indiana 46052
(765)482-0875 waldotheclown@hotmail.com