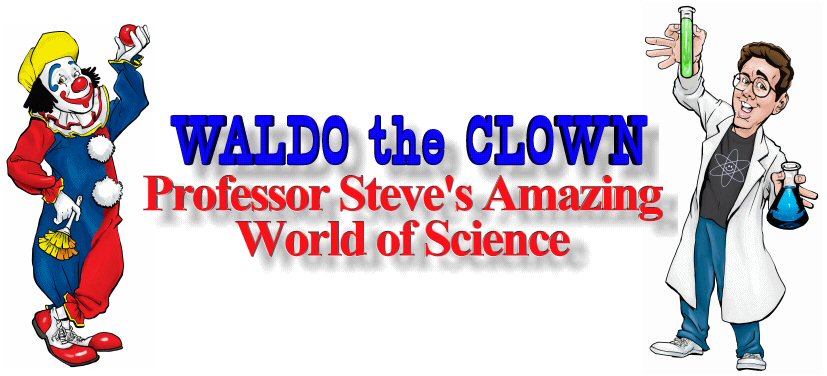 ---

FAQs
What makes Waldo the Clown & Professor Steve a "ministry"?
In both cases, it is the content & the structure of the programs that make what I do a ministry. As Waldo, I am able to use the tools of a clown to teach the concepts found in the Bible in a very visual & a very effective way. As Professor Steve, I am able to use scientific demonstrations to show how the world around us works & how God fits in the picture. Everything that Waldo & Professor Steve do helps to point the audience members, both young & old, toward an understanding of God's awesome power & love.
What do you offer Public Schools & Libraries?
Public schools & Libraries will get the same effective teaching, minus the talk of God & the Bible. Waldo will visually present programs dealing with friendship, self-esteem, respect of others, & other topic dealing with Character Education. Professor Steve will teach & demonstrate how fun & exciting science can be. And with both Waldo & Professor Steve, classroom workshops are always an option.

What can I expect in a Waldo the Clown & a Professor Steve program?
You can expect an exciting presentation that is always (1) age-appropriate, (2) rich in content & teaching, & (3) structured & visualized so that it is easily remembered.

Is all of this just for kids?
Not at all. Waldo presents many programs that involve everyone in the church, as well as programs involving just the adults. Waldo's messages are definitely not just for kids. And as for Professor Steve, adults as well as kids (even very young kids) are captivated by the science experiments demonstrated in front of them.

Besides programs, do you have anything especially for Junior High & High School youth?
Workshops are great for older youth. They are not only fun, they teach the youth new & exciting ways to share Christ with others. Also, Steve is available to help you start a clown ministry group, something that works exceptionally well for older youth looking for a new & different kind of outreach group.

How about our teachers?
Another aspect of my ministry is working with adult teachers to help them to be the best they can be. No matter what ages your teachers work with, my goal is to help them to become better & more effective. With many subject areas to choose from, we can tailor a time with your teachers that will cover the things they really need.

What can you offer our VBS program?
Both Waldo & Professor Steve play a big part in many VBS programs each year. Already have a program picked out? One of us can take the program you are using & deliver a kickoff or closing program that reinforces its teachings. Looking for a high content, fun & unique VBS? Then look no further! Waldo can be with you all week with his "Greatest Show on Heaven & Earth"' a fun & exciting circus-themed VBS program. Or, for all your little Einsteins, Professor Steve can bring you his week-long "Amazing World of Science" VBS program. Both programs are high in content & extremely fun for everyone involved. Whatever you plans may be, Waldo the Clown & Professor Steve are both at your service, for one day, several days or the entire week. As a featured guest or as your mission for the week, they can help to make your VBS extra special. For more information, click here.

Do you ever work with groups at Church Camp?
I work with many different camps each & every summer. I can provide you & your campers with both programs & workshops, & am available for one-day visits, multiple days, or even the entire week (many times as the camp mission). Both Waldo & Professor Steve are great ways to add something special to the whole camp experience.

When are Waldo, Professor Steve & Steve Walden available to come & share with us?
This is a full-time ministry. That means we are available when you need us, seven days a week.

Can Waldo & Professor Steve help with promotional materials?
I can provide you with an entire packet of promotional materials including posters, clip art, activity pages for the kids, bulletin inserts, background information, press releases, & pictures.

How much does it cost to have Waldo, Professor Steve or Steve Walden come to our church?
One of my goals has always been to be affordable for all churches, regardless of their size. To accomplish this, prices for programs & workshops are always based upon the average attendance of the congregation. Your group, no matter how big or small, will be able to afford Waldo the Clown & Professor Steve. For more information, click here.

How can I learn more about Waldo the Clown or Professor Steve's Amazing World of Science?
Since you are here on my site, you are on the right track. Be sure to call, write or send me an email if you have any questions (my email address is down below). I can also provide you with my Promo Video (click here), my brochure, references, letters of recommendation, newspaper articles, pictures, prices, & other assorted goodies. Just let me know what you need.
Thank you!
---
WALDOtheCLOWN
Professor Steve's Amazing World of Science
1405 Brooke Dr.; Lebanon, Indiana 46052
(765) 482-0875 waldotheclown@hotmail.com