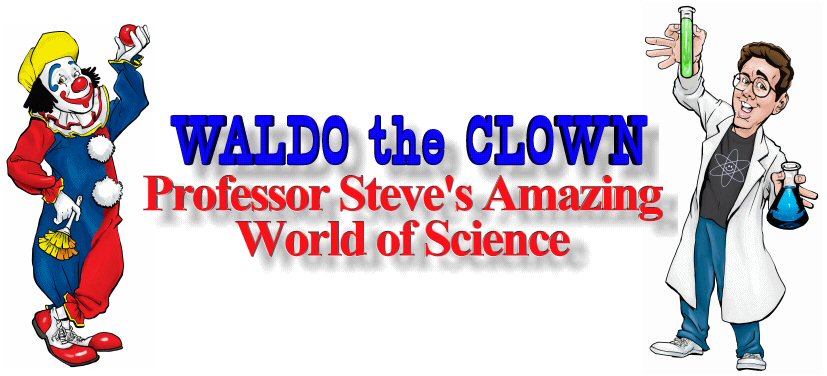 ---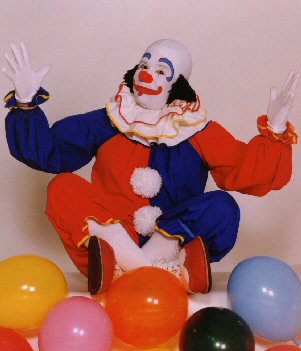 Waldo
Waldo the Clown is the direct result of one youth minister's search for an effective & exciting way to communicate the Word of God to others. Since 1982, Steve Walden, as Waldo the Clown, has been presenting programs to churches & organizations throughout the entire U.S., sharing the love of God & the Bible with people of all ages. In addition to his work with churches, Waldo works on a regular basis with schools, camps, libraries, festivals, conventions, day-care centers, birthday parties & businesses. He was even named by Child magazine as one of the best performers in the U.S. (June 1995 "Best of Everything for Kids" issue). Your people, both young & old, will have a great time learning with Waldo the Clown.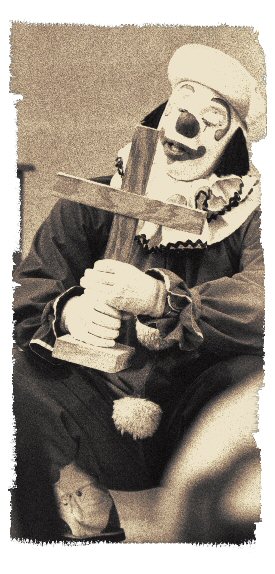 The Ministry
Waldo is a preacher. Every program that Waldo presents is a sermon, complete with individual points all supporting a central theme straight from the Bible. Being a clown, however, allows Waldo to take his messages a step farther. Instead of just talking about what God's Word says, he can then show them what it means through the use of carefully chosen visuals & illustrations. Everything that Waldo does during a program is being used to reinforce the theme of the program. This allows the Bible to become truly alive in the minds of all who see, regardless of their age or background.
---
The ministry of Waldo is not only one of presenting programs, but also of equipping. Workshops designed to help your adult teachers teach, to show your youth how to creatively share their faith, or to start clowning & drama groups in your church are also available. For more information about workshops, check the home page index or just click here.

---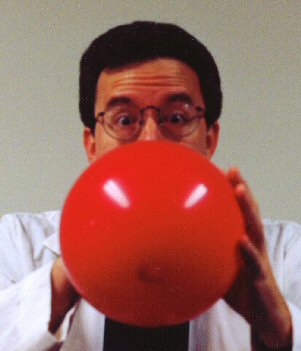 The wonders of science presented from a Christian perspective.

All the fun & interaction of Waldo, wrapped up in a lab coat & a cool science tee-shirt.

Amazing demonstrations that not only teach science, but also show how God is in the center of it all.

Great for both children & adults.
Looking for a great way for your kids to learn about science, & at the same time learn about God? Professor Steve & his amazing programs are the answer. Lots of interaction, comedy & some really great demonstrations ensure that your group will have a wonderful time learning all about science, & how God can be found right in the center of it all. You will never hear anyone say that science is boring once they have spent time with the Professor.
---
Steve Walden (a.k.a. Waldo / Professor Steve) has worked with churches, youth, & youth leaders for over 25 years. He is a 1981 graduate of Lincoln Christian College (Lincoln, Illinois), & served as youth minister at two different churches in Indiana before going into Waldo & Professor Steve full-time in 1989. He combines what he learned from college & his youth ministries with the extensive training he has received in the areas of circus & clowning from Ringling Brothers instructors & other performers, not to mention the years of time spent in front of the television watching Mr. Wizard, Beakman's World & Bill Nye the Science Guy. Steve is an experienced performer, comfortable with working in front of groups of all sizes, & an experienced communicator, capable of teaching God's Word to kids & adults of all ages. He is ready to bring that experience to your group today through the ministry of Waldo the Clown, Professor Steve & Steve Walden.
WALDOtheCLOWN
Professor Steve's Amazing World of Science
1405 Brooke Dr.; Lebanon, Indiana 46052
(765) 482-0875 waldotheclown@hotmail.com